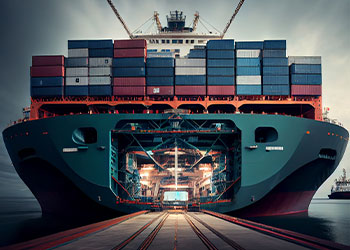 • To receive goods from the customer's warehouse and to deliver the goods to the buyer's warehouse or directly transport them to all parts of the country. • To provide specialized services for transporting reefer container for all foodstuffs . Specialized transportation services for special containers OT ( In-Gauge / OOG ), FR, etc. • To change the vessel where there is no direct service available to destinations without changing the container: transship transport service .To change container and send the second container to all ports all around the world in case direct service is impossible (cross stuffing) Providing service from the following ports: • Persian Gulf Region : (Jebel Ali and Sharjah in UAE, Hamad Port in Qatar, Sohar in Oman, Bahrain and Kuwait) • The Indian Subcontinent : India (Nhava Sheva, Mundra, Chennai, Tuticorin, Kandla, Visakhapatnam); Sri Lanka (Colombo) • Southeast of Asia: Vietnam (Haiphong and Ho Chi Minh); Thailand (Bangkok, Lat Krabang and Laem Chabang); Malaysia Port Klang and Penang); Singapore; Indonesia, (Jakarta and Surabaya)Philippines. • Far East: Taiwan(Hong Kong), South Korea (Busan); Japan (Tokyo, Yokohama, Kyoto); China (Ningbo, Shanghai, Shenzhen, Qingdao, Dalian, Tianjin, Xiamen, Fuzhou, …) • Oceania: Australia (Sidney, Melbourne); New Zeeland (Auckland) • Europe: Hamburg, Antwerp, London Gateway, Rotterdam, Barcelona, Genova, Le Havre, Marcie, Gdynia, Gdansk, Odessa, • Africa: Alexandria, Port Sudan, Dar es Salaam, Mombasa, Durban, Cape Town, Tema, Lagos, Abidjan • Canada: Toronto, Montreal, Vancouver and South America including Santos – Brazil
• Right now, a major part of goods transportation in the world is carried out via road. • DARYA TEJARAT ILIA Shipping Company is ready to provide land transport services from Turkey and all European countries (Austria, Belgium, Bulgaria, Croatia, Denmark, Finland, France, Germany, Greek, Hungary, Italy, Portugal, the Netherland, Romania, Russia, Spain, Sweden, England,…) to all destinations in Iran for LTL and FTL products from the seller's warehouse to the 􀀂nal destination with a fully competitive freight cost to its customers by having experienced and capable agencies in Europe and Turkey.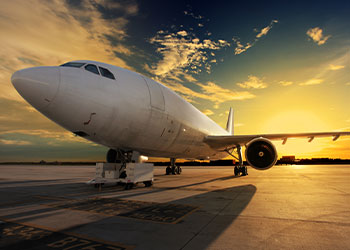 Air transport is one of the quickest and safest methods of goods transport in the world which enjoys %34 of global trade value and expansion of this trend is considered as one of the economic growth indices of the countries. Air transport is the best option for carrying high-value goods as well as the goods that time is a very important factor in their transport. DARYA TEJARAT ILIA Shipping Company is able to transport authorized products from all around the world (import) by cooperating with all domestic and foreign airlines.